Nuance Galleries will be celebrating 31 years of art, frames and fun with the Tampa Bay area in 2013.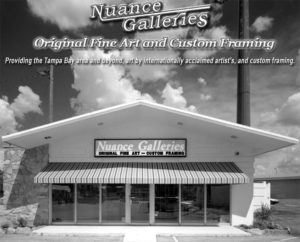 Nuance Art Galleries has been providing Oil and Acrylic Paintings, Watercolor, Sculpture, Limited Editions Prints, Etchings, Silk Screen, Wood Block, fine art and custom picture framing in a friendly and professional atmosphere for over 31 years.  Our collection of fine artwork includes over 20 international and local artists with a variety of styles from classical to modern and in mediums ranging from offset lithographs to original fine art.
Nuance Art Galleries also has the finest selection of frames in the area with over fifteen moulding companies represented.  Nuance Galleries has been fortunate to provide artwork and framing to the entire Tampa Bay area, especially to South Tampa residents and our special clients The Tampa Bay Rays, The Tampa Bay Lightning, The New York and Tampa Yankees, University of Tampa and Special Operations Command Central at MacDill.  Thank you to everyone who has been a part of our 30 years….
Robert, Suzanne, Diane and Mary Beth